By: Theresa Standfast, Barbizon International       

When it comes to life after Barbizon, our alumni go on to do incredible things from booking work in the modeling and acting industry to producing their own music, art, movies, and fashion. As a Barbizon 2002 graduate, Ashley-Victoria Smith is no exception. Not only did she go on to work in the modeling industry as a model, professional scout, and even Barbizon director of marketing, she's now come full-circle in fashion by owning and designing her very own luxury swimwear and loungewear brand, Voglia Swimwear.
Voglia Swimwear is surely making a splash in the fashion industry with its commitment to sustainability from its materials and packaging to partnerships and proceeds that benefit ocean conservation and cleanliness. Every swimsuit is made from regenerated and recycled materials that have been discarded as waste in the earth's oceans, like fishing nets. This ocean waste is turned into fabric in Italy and then sent to Bali for manufacturing where the swimsuits are ultimately sent to consumers through a plant-based, biodegradable and compostable packaging shipping company. A portion of the company's sales is also currently benefiting The R.O.L.E. foundation, a nonprofit organization working towards a sustainable future for Bali's communities through women's empowerment and healthy environmental practices.
We caught up with Ashley-Victoria Smith to learn more about her success after Barbizon as a fashion designer and where she's headed with her brand for the future. Read on to catch all the details in our exclusive interview below!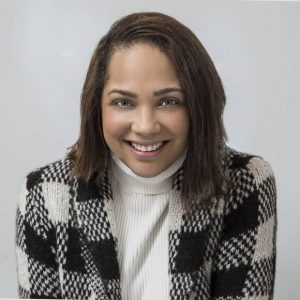 How would you describe yourself and your role in your current career and occupation?
I am a Creative Director and Designer. I started my brand, Voglia Swim, in 2020 with a mission for something greater as 'voglia' means wish in Italian, and my wish is for a cleaner, healthier better world for us all, which is why I advocate for more sustainable and eco-friendly brands and practicing that lifestyle 360.
As a Barbizon graduate, what are some valuable skills or lessons that you learned from the program and still use today?
I graduated Barbizon in Richmond, Virginia in 2002, but one thing that has always stuck with me is that you have to utilize the tools and resources given to you. If you take the knowledge but don't apply it, you won't get very far.
What have you done in the modeling and/or acting industry after graduating from Barbizon?
Oh goodness, where do I start? I've been a lingerie model at industry trade shows, been internationally published, and worked as a model scout and coach. I've been a pageant judge, I was Ms. South Carolina American Beauty 2017, back-of-house coordinator for fashion shows, and produced fashion shows at New York Fashion Week and Miami Swim Week.
What do you feel your biggest accomplishment is in the modeling and fashion industry?
Never giving up.
What inspired you to get into fashion design and led you to creating your own brand?
I've been producing lingerie and swim fashion shows since 2013, so I already had a passion for that particular fashion, but it wasn't until mid-2017 when I literally dreamed the line. I woke up and said, 'I have to bring this to life.' So, fast forward four years later, I did just that. I always say, 'You can stay asleep and dream or wake up and bring your dreams to life.'
Why did you decide to focus on swimwear and loungewear instead of another type of fashion?
I hate clothes lol, I don't know why. Don't get me wrong – put me in the front row at Chanel's next show or even Alexander McQueen; it's the story, the art, the presentation that I am captivated by when it comes to fashion shows, but at the end of the day, I want to be in a bikini and just lounging around.
In becoming an entrepreneur and building your own brand, what was one of the biggest challenges you had to face and overcome?
It would have to have been finding the right manufacturers to not only produce my items, but whose core values aligned with mine. Some of those values are safe, hazard-free work conditions and paying employees a livable wage. Additionally, I needed to work with a manufacturer that uses eco-friendly inks and dyes and sustainable/regenerated fabrics and limits their one-time use plastics. Once I found them, I've been in love ever since.
What advice would you give to other young designers who aspire to build their own brand and fashion line?
Do it. Be true to your style, your vibe. Don't try to be like another designer. Someone once told me that the world is a buffet and there's enough for all of us. However, you must put in the work; you've got to pick up a book and read up on your craft, you need to study your industry, you need to stay humble and genuine. Oh, and it's not going to be easy, but it'll be worth it.
How do you aspire to continue to grow your fashion brand and line in the future? What do you have planned for 2022?
We will be expanding more into the swim, surf, ski and skate lifestyle as that's where a chunk of my heart is. Plans for 2022 is to expand into retail stores nationwide and continue to design beautiful swim pieces for every body type. I'd love to establish an ongoing partnership with Barbizon and their graduates, giving them an opportunity to take a dive with us!
What's been the most rewarding part of your journey into fashion design so far?
Seeing complete strangers wearing my bikinis and reading reviews/testimonials on how much they love the product.
Where can someone follow your work and find your fashion designs?
We are on Instagram, Twitter, Facebook, Pinterest and TikTok as well as online at www.vogliaswim.com