Interview with Actress, Model, Philanthropist, Pageant Title Holder & Barbizon Alum, Allison Dae
 By Jamie Rothberg
Most seventeen-year-old girls are nervous about what college they are going to attend or who is asking them to prom.
Allison Dae is not like most girls.
Her family has been involved with Barbizon Modeling and Acting since before she was born. Naturally, this led her toward the beginning of her modeling and acting career.
Allison wears many hats. She is a junior at the Center for Performing and Fine Arts, while also taking academic courses through an online program. Not only is she acting and studying, she also founded a nonprofit company dedicated to finding a cure for Juvenile Rheumatoid Arthritiscalled More Than A Percentage.
"I only go to a brick and mortar school two days a week to study fine arts and to act," Allison said. "This allows me the flexibility to be able to handle my nonprofit More Than A Percentage and act."
Talk about a superstar.
Allison was a young age when she started to model, appearing on toy box covers and more. Modeling became her gateway to pageantry.
"I entered pageantry with the goal to win a national title, and after a few years of hard work, I became Miss Jr. America Jr. Teen."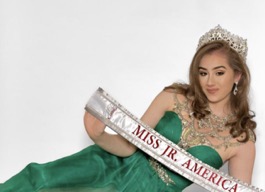 Eventually, Allison received enough recognition that enabled her to start a nonprofit.
However, to this day, acting remains one of Allison's most beloved passions.
"I have been fortunate enough to book many projects and travel to Los Angeles for numerous roles and opportunities."
Yes, at seventeen, Allison has found more success than most, but she still does have fangirl moments. She was once on set for a Calvin Klein campaign where the model turned out to be Cameron Dallas. Everyone—Allison included—was surprised.
"My favorite job was the Calvin Klein campaign with Cameron Dallas. When we got to set in LA, all we knew was that we were there for a photo shoot. We had no idea who the designer was or who the celebrity model was."
When the model was revealed, Allison was thrilled.
"Cameron Dallas, who happened to be one of my favorite influencers at the time, came on set. We were so surprised and excited. I was posted on the Calvin Klein Instagram page with a picture of Cameron kissing my cheek!"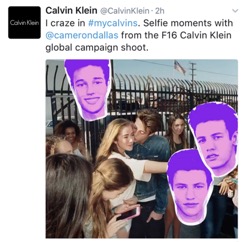 Allison is always striving to be a better model and actress.
"I have discovered that with each new level you reach in the industry, there is still a higher level you are reaching for. For example, the first time you see yourself on TV is very exciting, but then you are encouraged to land a bigger role."
Four years ago, Allison started raising money to fulfill her dream of starting her own charity by competing in pageants and trying to win a national goal. The hard work paid off. Today, she is the proud founder of More Than A Percentage, an official non-profit with 501(c)(3) status.
"The name 'More Than A Percentage' has a deeper meaning to me," Allison explains. "Throughout my treatment, I learned that I am in the 10% of kids who have Systemic Onset Juvenile Rheumatoid Arthritis. I felt boxed into this statistic and saw myself as that number."
Allison is more than a number, more than a percentage, and she wanted to show others that they were not alone in this feeling. Everyone has a label, but Allison wanted to break away from this boxed-in idea.
"I want to encourage people to rise up and break out of their boundaries so they can reach their full potential."
Even though Allison is constantly juggling her career, school and her organization, she feels grateful to be able to give her whole heart to the two things that she is passionate about while being able to watch them "flourish right in front of [her] eyes."
More Than A Percentage's first main event is this June.
"This year's goal is to raise a minimum of $50,000. We have already received support from local businesses and individuals."
Looking into the future, Allison hopes to be funding a researcher who is solely dedicated to finding a cure for Juvenile Rheumatoid Arthritis. She wants those who are affected to feel comfortable standing up to the disease and always knowing that they are more than a percentage. That a label or statistic will not define them.
"I hope to inspire individuals to keep pushing forward in times of need."
She may have high hopes for her organization, but she also wants to attend university. Her wearing-many-hats challenge will carry on as she pursues a degree, acts and runs a nonprofit.
Allison is the full embodiment of setting goals and accomplishing what one sets out to do.
"Never let anyone tell you that you cannot do something. If you have a goal that you're passionate about and the dedication to work toward it, anything is possible. The best thing I've learned is never take 'no' for an answer!"