By: Meredith Bahuriak, Barbizon International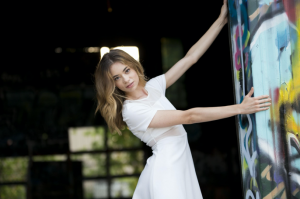 Bekah Rinard graduated from Barbizon of Dallas at 17 years old. After signing with The Agency in New York, Bekah booked work as an extra on the Michael J. Fox Show and played a small part in the movie "Best Man Holiday," a commercial for a regional bank, and walked in fashion shows for collectives of local designers. From there, she went on to model in Paris to get acquainted with the European modeling industry.
Today, Bekah attends UNT where she walked for the merchandising and fashion design students' events such as their annual ArtWear show, and for NYFW designer Mahiri Takai at his menswear show that took place at the university. After informing us it was at UNT when she really got serious about modeling, we wanted to know more about Bekah and her experiences.
How was your Barbizon experience?
I really got to know what goes on behind the scenes of a photoshoot or [during] the filming of a movie. I learned everything from public speaking to self-care to how to nail an interview.
What is your favorite thing about Barbizon?
The classes are all changing to reflect the current trends in the industry which is cool because after you graduate you can always go back and retake classes and be up-to-date.
What is your favorite thing about modeling?
There is kind of a performative aspect to it I have always enjoyed. I feel I need to portray the character of the person who would wear the clothing. I've always loved acting and being on stage. Modeling has come naturally to me since I don't tend to smile much! So it's easy to convey expressions and confidence through my eyes and posture instead when I have to keep a straight face.
What was the biggest challenge for you when you first started modeling? Did modeling help you discover new things about yourself?
My biggest challenge has been my height (5'7″). I have the right body measurements for high fashion but my height is a bit on the short side. However, my idols are the iconic Kate Moss, who is also 5'7″ and Cara Delevigne, who is 5'8″. So if they can make it, why can't I?
Describe the most memorable moment or project you have worked on.
The most memorable project I worked on was when I was in Paris. I bonded with the girls that were also there with my agency at the time; they were very encouraging. We explored the city together and looked out for one another. Before I stepped out on the runway they all wished me good luck from backstage. I like it when girls band together instead of competing against each other. That was just a really powerful moment.
Do you have any special talents or hobbies?
Well I'm studying creative writing at UNT. I love to write songs and compose music. Writing is a creative outlet for me; I just want to create things that move people.
What are your current modeling goals and future plans?
I want to book more jobs whether they're in Dallas or in other cities. I'd love to travel more; do more work in print or on the runway. I'm thinking of moving to New York for grad school and to continue my modeling career.
Do you have any advice for current Barbizon students and alum?
Barbizon is really what you make of it and I am so grateful for the opportunities and experiences I've had.
For more on Bekah, be sure to follow her on Instagram @beckslyn!