By: David Wooddell, Barbizon USA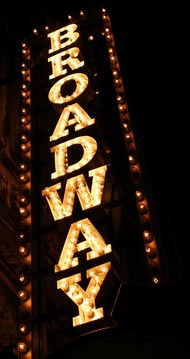 Have you ever been dazzled by the lights, glitz & glamour of Broadway? It's thrilling to see the house lights dim as the orchestra begins to play the opening number of a show. It is easily a mesmerizing thought for many to think about the years of practice & hard work it takes for a performer to win over the crowd. There is a lot that goes on behind the scenes to make a beautiful performance happen, and it all begins with the audition process.
The Broadway circle is a much different ring of directors, producers & casting directors than Hollywood. Telsey + Company, easily NYC's largest casting company, is responsible for the majority of casting both on and off Broadway, as well as throughout the country with touring troupes. Most casting directors that work on Broadway focus on theatre and most casting directors that work in Hollywood focus on TV / Film production.
Most aspiring performers relocate to New York to make it big on Broadway after years of studying and receiving an undergraduate or graduate degree in acting or drama, but, that's just the beginning of their career. "It takes a tremendous amount of training to star on Broadway," says Tom Oppenheim, Artistic Director and President of the Stella Adler Studio of Acting. It isn't enough to be a great dancer or singer – you have to be the best. Once you have the basics down for dance, you need to have versatility to truly stand out. A well-rounded performer that is cast in a Broadway show is a triple threat: singer, actor & dancer.
In my former life, as a Hollywood manager, I had a client, Justin Mortelliti (www.justinmortelliti.com), who studied at the Mason Gross School of the Arts at Rutgers University as well as The London Academy of Theatre in addition to several conservatories & acting coaches throughout NYC and LA. It took a lot of training to get him where he needed to be vocally & physically. There came a point where he would go on so many auditions and come close to booking the job but didn't. This caused him to reevaluate what he was doing during the audition process to market himself better. He was first cast as Pippin in the NewArt Theatre Company production of "Pippin" and moved on from there to star as Roger in the West Coast Regional Premiere tour of "RENT." He booked several TV / Film roles throughout the years and finally landed his latest role as the lead role of Drew in the Original Las Vegas cast of "Rock of Ages" where he was a Broadway World nominee for Best Lead Actor in a Musical. It took Justin years and a lot of hard work & determination to get to this level of "working professional actor."
Working as a professional on-stage is a much different skill set than working in television & film. When you're working on the set of a TV show or film project, the acting style is to play to one or more camera lens whereas with theatre, you have to reach your audience. Being over the top is generally frowned upon with film acting but on stage, every movement needs to be visible even from 40 rows back. This is why training is so important for actors to be able to change their acting style depending on the type of project they are cast in.
This hard work and determination is what every new actor to the Broadway circle needs to have. You should take voice lessons, acting classes & be in a dance class regularly if you really want to succeed in New York City as a Broadway star. Be open to theatre dance class, ballet & tap. You need to be as versatile as possible. The best, most successful stars never stop training.
 "The stage is not merely the meeting place of all the arts, but is also the return of art to life." – Oscar Wilde

Do you want to learn more about the acting industry and how to get your start? Contact us today to schedule an audition!