By: Meredith Bahuriak, Barbizon International
"Everything happened so quickly after graduating and I am so grateful it did because it helped develop my skills on learning how to manage working with Barbizon as well as my full time job and school all at once," shared Brittany Anderson.
Brittany graduated from Barbizon in December 2017 in Kansas City. After graduating, Brittany booked promotional modeling jobs through Barbizon and was selected to compete in the Dallas Barbizon Competition. She went on to sign with Katalyst Talent Agency and Images Model and Talent Agency in St. Louis. Here's Brittany's Barbizon Story.
What were your Barbizon classes like?
With a director as cool as Miss Savannah, our classes were exciting and fun! We were taught so much more than just saying a commercial out loud or learning how to pose. We learned how to have poise and manners, how to sit and speak and how to look like well-minded people at auditions and castings or just for life in general. We followed along with the book that I still open from time-to-time and learned how to make a portfolio and how to write a professional letter/email. The classes gave us multiple opportunities to try out for auditions such as Passport to Discovery and the Barbizon Competition. They gave us the information on what we needed to prepare ourselves to really jump into our careers after graduation. Through Placement, I received a list of different agencies and I decided to sign with the I and I Agency in Kansas City.
What did you gain from your Barbizon classes?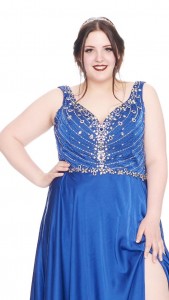 From the very first class to the last was the very best and most enjoyable six months I've had because not only did I make so many unique and lifelong friends, I had really taken up on the personal development training which gave me the strength and the confidence to step out of my comfort zone to keep trying for something new. I stayed excited to keep auditioning and get myself out there to gain some amazing experiences and exposure. Before Barbizon, I wouldn't have had the courage to walk down the runway as a woman with my size 18 next to others who are a size 2, but now I own my full-figured body and kill that runway every time. There is actually no other place where I feel more comfortable now. I have gained the right positive attitude I really needed and the mindset to say I can do this and go out and do it. Barbizon pushed me to better myself every day and to always have the drive and determination in anything and everything I'm doing. Barbizon laid out the path for me to follow and gave me hope that I could have a career being a plus size figure for runway, print, commercial and television. Barbizon has changed my life.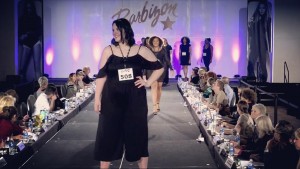 What was your favorite thing about the Barbizon Competition?
The nerves you feel before getting onstage to say your commercial and to walk down the runway with 50 agents surrounding you is the most surreal and exciting feeling. It's a rush of euphoria that explodes throughout your body as you're walking down with all of the lights and everyone's eyes on you for that moment and you get to own that moment. It's a moment where I feel I can inspire others that any person of any size can do anything they set their minds to. If you can dream it, you can achieve it. I went to Indianapolis with 2 of my classmates Nikki and Jordan from Kansas City that graduated the same year as me and we all had received awards and over 10 callbacks each. (Watch out for the Kansas Barbizon Baddies haha!) Getting the chance to experience that with some of my closest friends was so awesome and we took many pictures to save the moment! I took a 15 and a half hour train and bus ride to get to this competition because I just knew that this was my chance to make a name for myself and to show I stand out from the crowd. This was worth every penny I have worked for. I knew this weekend was going to put my foot in the door, that I just needed someone to notice me and what I'm trying to achieve. I also loved the feedback I received from not just the agents but the other contestants and the staff. A lot of people believe in my dreams and the message I'm trying to put out there. I didn't know that before. I have inspired others to go after what they're yearning for because I am. It's amazing that through my actions I can help influence someone else's dreams. I learned the impact you can have on others with your story and the happiness I gain from sharing it is truly heart touching and has shaped me into an even more grateful person.
Would you recommend Barbizon and/or the Competition to friends?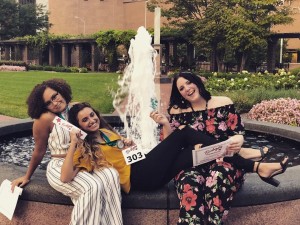 Of course I would! This was the the most inspiring and uplifting weekends of my life. If you truly have a passion to act, sing, dance, and walk on the runway then this competition is for you! Not everyone is given this chance and we were already trained for this big day, we just had to show it off. Barbizon isn't just a school, it's lifelong memories and friends, lifelong opportunities to advance your career and a lifelong motivation to keep striving for what you love. I auditioned for Barbizon for fun, I never would've thought I could have came this far just a year later but something about the training pushed me to do better. Not just in acting or modeling but in my everyday life, for how I handle things and treat others, for how much of an organized and well-grounded person I am now. I've gained more wisdom and confidence in just this past year than I have my whole life. I think for the youth that has excitement for this industry, they should be taking these classes because I have honestly never seen more well-behaved children, plus it's even cuter when they have such confidence to give a walk with attitude. All parents should look into this school because the development is outstanding and they could find a passion for something new!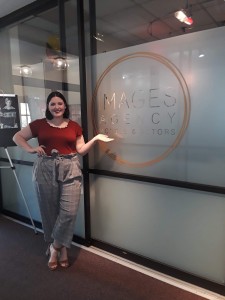 Congratulations on already signing with Katalyst and Images Agency! What are your goals for the next year?
Thank you so much! It's still so surreal! They had called literally the day after I came home and to have someone interested in me so much to sign that quickly was a great feeling and I am so excited to start working with them and traveling more for jobs! I'm a very in the moment kind of person and I love to always focus on the next thing as well but a year from now I would love to have auditioned for New York Fashion Week and to have taken as many job opportunities as possible. I do work a full-time job now as a Front Desk Receptionist at a Holiday Inn, but I would someday love to go full-time into this industry. Maybe not in a year from now but definitely sometime soon. I also wish to have walked for a big name designer and I wish to meet my idol, the one and only, Ashley Graham! I strive to be in the position someday to hopefully walk for one her lines too! That would be the ultimate dream come true. But for now I'm going to sign with as many agencies as possible and book many jobs. I love traveling so I wish to do that more and to get off the train by conquering my fears of flying on a plane! I wish to inspire as many people as I can this year and the year after. There is nothing better than the feeling knowing you helped motivate someone through your work.
Is there anything you'd like to say to your Barbizon?
The biggest thank you from the bottom of my heart to the top of it! Without the team and staff this whole weekend would have not happened and for everyone dedicating their time to change young lives. It's amazing what you guys do and the time and work you've put into each of us with training and making sure we are fully prepared. I am so grateful to have been given this opportunity along with the scholarship to help get me here and towards the goals I have yet to accomplish. Thank you for putting together this event and for bringing everyone together to discover many talents from the Midwest because we are unrecognized a lot. Thank you so much again for everything you do and for believing in my dreams and me!
Instagram: Brittany Anderson (@brittanymeows29) • Instagram photos and videos