If you haven't heard already, every year Barbizon and Girls' Life Magazine sponsor a model search contest where we give away an editorial photo shoot, vacation, and more! Due to the worldwide pandemic, we had to postpone the 2020's winner and prize package, but now in 2021 we get to feature two fabulous winners together! You can meet both of them below in our exclusive interviews with 2o20's winner, Lily Huang, and 2021's winner, Alana Lintao. And be sure to enter yourself for a chance to "Get Discovered" and win the ultimate model experience of your dreams in 2022!
Meet Lily Huang: Get Discovered Winner 2020
What do you love about modeling?
I love being the spotlight, and the one who can deliver messages for designers, photographers, or anyone that I am modeling for including myself.
Where is your favorite place you have ever visited?
Ko Samui, Thailand – It has the most gorgeous beach ever in the world.
Who is your celeb crush?
Timothée Chalamet!!!!!!!
Which living person do you admire most?
My mom. She has always been my role model. Her story of immigrating to the US alone from China years ago and finding her American dream getting achieved is always very inspiring to me, especially when I am feeling discouraged by hardships.
How would you describe your style?
Urban chic.
Do you have any hidden talents?
Playing piano + being fluent in two languages (and learning my third and fourth language right now in school) + video-gaming (PUBG)
What is your biggest dream?
To walk for either Chanel, Dior, or Jacquemus one day!
Where do you want to be in 10 years?
New York City!!! I can see myself being busy around all the fashion events happening during fashion weeks and stepping in-and-out of one of the high-rise office buildings, and working for an international relations consultation company.
What 3 cities would you most like to visit?
Paris, Milan, and Tokyo
What three beauty products can you not live without?
Mascara (getting those popping eyes), lipstick (making my lips shine), concealer (covering up some spots)
Who inspires you in modeling?
Liu Wen. She is absolutely slaying whenever she is onstage or on set, and her story of entering the modeling world as a Chinese woman is very encouraging to young models like me to have someone to look up to and also who shares the same culture and heritage as me.
Meet Alana Lintao: Get Discovered Winner 2021
What is the last book you read?
Jab, Jab, Jab, Right Hook by Gary Vaynerchuck. I'm a marketing major so I've been reading into a lot of books that will help me further my knowledge in the subject!
What do you love about modeling?
The way it makes me feel! I've been on stage or in front of a camera since I can remember, every performance or photoshoot I do makes me more confident. I love the entire process as well! From getting my makeup done, to meeting new people on set, and seeing the final result of the shoots is just everything.
Where do you like to shop?
I love shopping at Aeropostale, Hollister, Garage, PacSun, Urban Outfitters, and Forever 21! I've also been vibing with thrift shops recently, but they're definitely a hit or miss.
Who is your celeb crush?
Timothée Chalamet.
How would you describe your style?
Cute & comfy! I also tend to gravitate more towards colorful pieces. I LOVE a fun pop of color.
What is your favorite accessory?
I'm always wearing earrings! I've also recently been loving necklaces and rings.
If you had to wear one pair of shoes in your closet forever, what pair would you chose?
My black Converse for sure. I've been a Converse gal since I was little!
Do you have any hidden talents?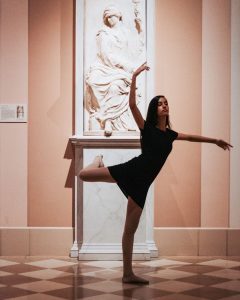 I'm an open book! Although, a lot of my followers are always still so surprised when I tell them I've been a dancer for 10 years. I can also sing the alphabet backwards?
What 3 cities would you most like to visit?
LA has always been one of them so I can't wait to cross that off the list! My brother & I have always talked about visiting Tokyo one day which would be super fun. Lastly, Manilla in the Philippines.
Where do you want to be in 10 years?
As for right now, in 10 years I want to be a signed, working model. I also hope to have a million followers on my social platforms and maybe even have my own business! I could also see myself getting back into acting sometime down the line, I would love to be featured on Netflix. Ultimately, I hope to continue to leave a positive impact on others through my platform and inspire others to chase and never give up on their dreams
Who inspires you in modeling?
Zendaya. It was crazy watching her as a teenager on Disney Channel, then seeing her work all the way up to Vogue!
Be sure to watch Barbizon and Girls' Life's Instagram for more on these girls when they head out to Los Angeles for their photoshoot in November of 2021!