By: Meredith Bahuriak, Barbizon International
Megan Frey graduated for Barbizon of Buffalo, New York in 2011. Today, Megan is officially a model for Arrow and Eve swimwear, diff eyewear (coming soon), I am babes clothing brand, Kalyani Swim Wear (coming soon), and Ariel's Bikinis (coming soon). After adoring Megan's Instagram posts, modeling the best new swimwear from Arrow and Eve, we had to check in with her to learn more about her success.
What did you gain from your Barbizon experience?
Before Barbizon I was SO shy. I couldn't talk to anyone. I seriously mean it when I say Barbizon taught me social skills. Besides that, confidence and about the industry of course.
What are your next steps for the future?
I'm growing rapidly on social media. I plan to continue modeling, but I'm also going to be attending college at the same time!
How does it feel to be modeling professionally?
I had my first official modeling job a while back when I was around 13. It felt amazing. But now I'm older I've been doing a lot more and it feels great! It's my passion!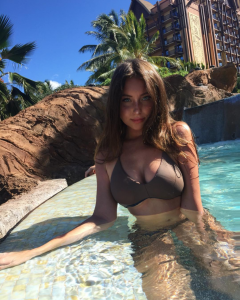 "Thank you Barbizon for getting me through the first door and teaching me the ropes!"
You have so much lined up and this has to be such an exciting time for you, do you have any advice to offer current Barbizon students or grads pursuing a career in modeling?
My advice to future Barbizon girls is to not stop. To keep pushing. I've been rejected so many times. It might take a little to get the hang of it or grab the right person's attention! Also another piece of advice is to fake confidence. When I say this I mean, we all get nervous! I get so nervous for every casting! But pretend you are calm and cool. Acting bubbly and confident is key.