By Meredith Bahuriak, Barbizon International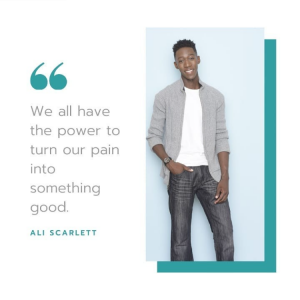 As an organization that develops your inner "star power" so that you can shine in the world, Barbizon has grown into a large community of creators including models, actors, entertainers, and more! In honor of February being Black History Month, we're shining our Creator's Spotlight on one of our very own, 2018 Barbizon of Frederick grad and actor, Ali Scarlett. In addition to his many acting credits, Ali is making his own history with the publication of his first novel in September of 2020, which quickly rose to becoming a #1 best seller on Amazon!
 Ali's book The Clever Connector explores the art of networking by answering questions such as: How can I build relationships with the powerful decision-makers I need to advance my career? How can I achieve all of my goals without having to spend a single dollar? How can I attract billionaires, executives, and celebrities into my social circle when I'm broke? We reached out to Ali to learn more about his novel, career, and future endeavors. Catch some insight into his creative mind below!
What have you been doing since graduating from Barbizon?
Oh, you know. Auditioning, networking, trying to stay alive in a global pandemic…the usual :).
Congratulations on being #1 on Amazon!! How did you find yourself writing? Was writing something you were always interested in?
Thanks!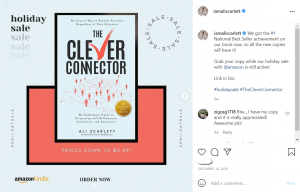 I've always wanted to share my knowledge and my story with people who are where I was a few years ago—back when I was at my lowest point. I believe information is a form of power. And, I had always planned on writing a book as a way of empowering others to rise above their pain. The same pain that left me broken and on the verge of giving up.
What I did not plan on, was COVID rolling through 2020 and mixing my goals like cake batter. I wasn't going to write that book until I was about thirty. But, faced with waking up every day, turning on the news, seeing the death count go up, and knowing I could be next, I decided to write the book now so that if anything happened to me, I could leave that book behind as a part of my legacy. 
Do you foresee more books or writings in the future?
Ahaha, yea, and you're not the first to ask me that :). 
I've been featured in a few publications for some articles I've written sharing more of my knowledge. And, I was very proud to share a few of those wins on my Instagram. 
As far as another big project like a whole book, yes, I have something in the works. As long as I'm alive, I'm going to continue my mission to make sure no one else has to feel the pain that I felt when I was lost, alone, and didn't know how to go through life. So, I have another body of work in progress that I might release this year.
We are excited to have you as Model Mafia for our Barbizon Competition this year! What are you most looking forward to about the competition?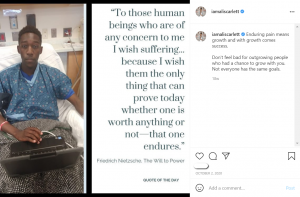 Mostly, I'm looking forward to meeting the contestants. I'm in a position now where I've done so much networking and met so many entertainment industry professionals, that the most exciting part of Model Mafia would have to be seeing other people who are chasing their own goals and dreams. It's always inspiring to be in an environment where people are going to be judged, they know they're going to be judged, they're most likely nervous, anxious, or afraid, yet they show up to that difficult situation anyway with every intention to do their best. I love that because win or lose, that's something we can all do. We can all show up to the difficult situations in our own lives and do our best. 
So, to see a massive amount of people who are all willing to face their own toughest mental barriers in an effort to achieve the dreams they hold closest to their heart is going to be a real treat. For me, this is going to be like watching the Olympics :D.
What are your goals this year?
Well, I think every man should have a little bit of mystery, but I can tell you this. I recently connected with a New York Times bestselling author who owns his own multimillion-dollar business that he built around the success of his own book. And, I'm grateful that he has agreed to mentor me to build a business around the success of my book.
What Barbizon advice do you have for anyone pursuing a career in the arts/entertainment industry?
Remember the three levels of success:
(1) It's what you know: In this case, acting.
(2) It's not what you know, it's who you know: directors, producers, casting directors, showrunners, and so on.
(3) It's not who you know, it's who knows you: Having a brand and some popularity so that industry professionals call you for roles.
All of these can be worked on right now. You can work on your acting, your networking, your brand, and your popularity (that last one is one of the benefits of living in the digital age). 
And, conveniently, this is one of the perks of the Barbizon Competition. It hits all three levels, even going so far as to put you in a position where judges call you (with callbacks) for roles so long as you're memorable. 
So, be memorable on stage. That's going to be what separates you from the competition.
——————————————————————————————————————–
For more on Ali, be sure to follow him on Instagram @iamaliscarlett
And check out his book, The Clever Connector, on Amazon!