The Barbizon and Girls' Life Mag Model Search is on, and the 2020 semi-finalists are in! You can view them all on the official contest page and get to know one below, semi-finalist Kaesyn Lester. From North Manchester, Indiana, she shared some interesting facts about herself and her current pursuits as an influencer, saying "I really want people to start feeling more confident in themselves, and that's my goal as an influencer to do that for this generation!" Find out the 10 things you should know about Kaesyn, and be sure to enter yourself in our 2021 Model Search Contest! 
What's your favorite food?
My favorite food is grilled chicken with ranch!
What school activities or sports do you participate in?
I run cross country, dance, and swim. I also have helped with my school yearbook and office aid at my school! I'm also the president of my JAG class, a class that basically preps you for college and helps you feel more prepared with admissions ect. (JAG stands for Jobs for America's Graduates.) 
What 3 words would your friends use to describe you?
Humble, composed, and vibrant 
What do you like to do on the weekends?
On the weekends I enjoy shopping with my mom, having a family movie night, and getting dressed up and taking photos! 
What is your dream career after high school and why?
My dream career after high school is to definitely do something with children, possibly a child therapist. I love being around kids and one of my favorite things to do is help people in as many ways that I can!
Which living person do you admire most?
I really like Will Smith, his speeches have helped me through a lot. He is an amazing actor and has lots of wisdom that I admire! 
Who is your celebrity crush?
My celebrity crush is definitely Martin Henderson. He plays Jack on the Netflix show Virgin River. 
How would you describe your personal style and where do you get fashion inspiration from?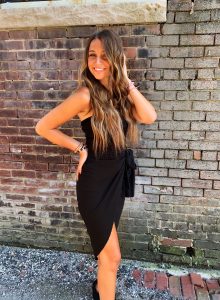 I would describe my personal style as diverse. I love styling oversized graphic tees with a pair of ripped jeans and some sick sneakers. But I also love anything bright colored paired with a ruffled skirt and a pair of booties. 
What's everyday life like in your home town of North Manchester, Indiana?
Living in a small town like North Manchester, everyday is pretty much the same. I enjoy getting ice cream after school some days or going to the nearest Starbucks for a treat! 
If you could go one place in the world, where would it be?
If I could go one place in the world, I would go to Greece. It's been my dream since I was in 4th grade to visit, and I'm hoping I get to check it off my bucket list at some point!
To connect with Kaesyn, follow her on Instagram @klani06, and check back here for more exclusive interviews on all of our 2020 Get Discovered Contest semi-finalists!